September 19 2017 | By Molly Gottschalk for Artsy
Why Do We Still Need Courtroom Artists?
(Image above: Illustration of Charles Manson leaping at Judge Older by Bill Robles)
In the past few decades, courtroom artists have sketched an enraged, pencil-wielding Charles Manson diving across the aisles, aiming for the judge; Tupac Shakur taking the stand with a fresh set of bullet wounds; and handcuffs locked around Lindsay Lohan's wrists as she waltzes into custody wearing Louboutins.
Since the Salem witch trials of 1692, over a century before the first photograph was snapped, artists have swiftly rendered sensitive and high-profile proceedings for an eagerly awaiting public. But why, over 300 years later—and in an age where everyone carries a camera in their pocket—do old-fashioned drawings remain the main way we document memorable moments in court?
"One would think in the 21st century, with very sophisticated cameras, that people would want the camera, and it's just the opposite," says Mona Shafer Edwards, a fashion illustrator-turned-courtroom artist who, since 1978, has been especially beloved for her depictions of women in the courtroom—from Lohan to a guitar-playing Dolly Parton. "Every year I would think, 'Okay, this is the year I'm finished,' and it keeps going."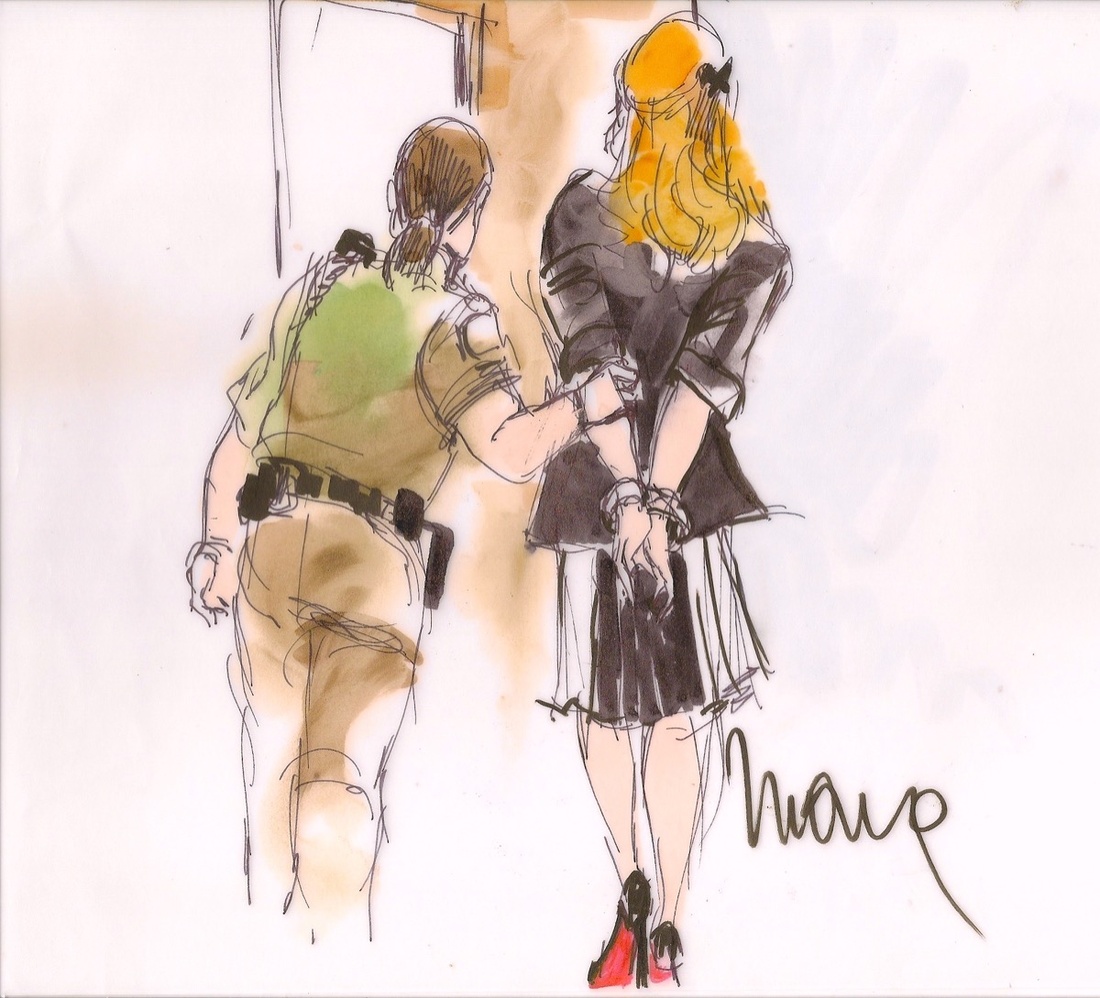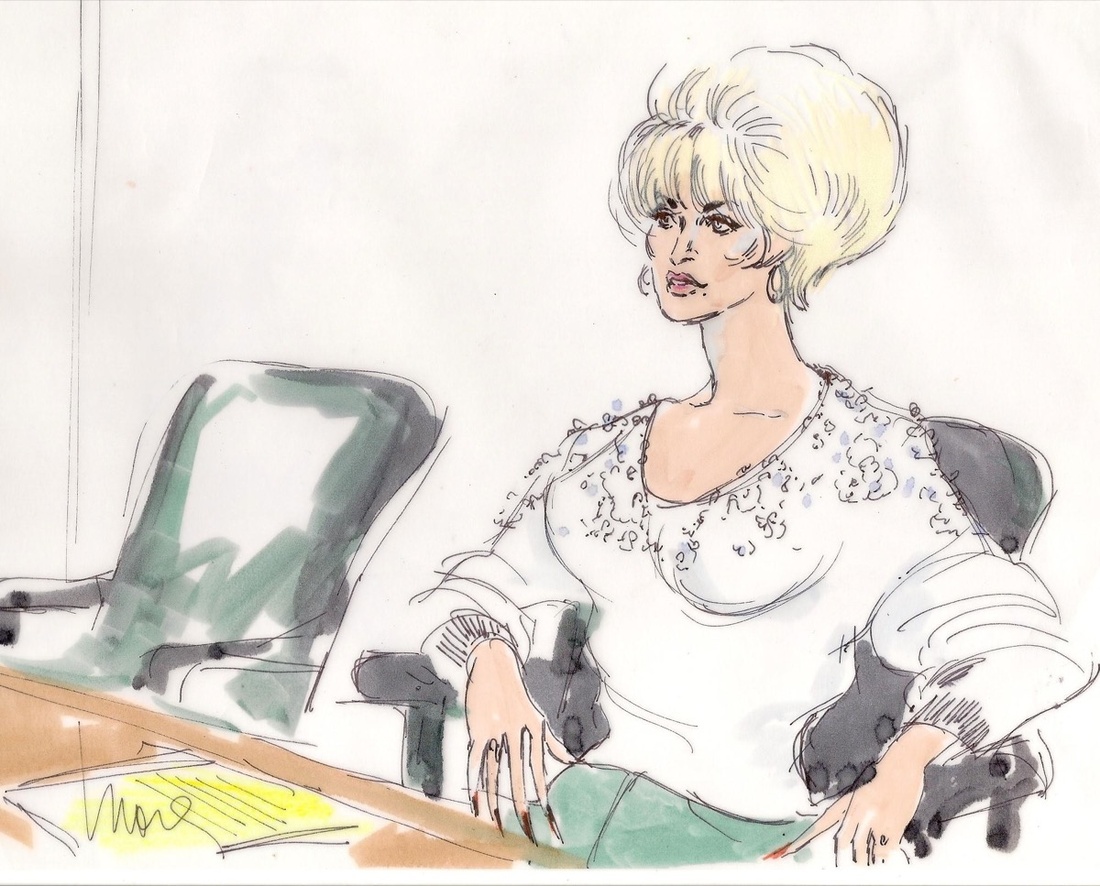 Illustration of Lindsay Lohan by Mona Shafer Edwards. (left)
Illustration of Dolly Parton by Mona Shafer Edwards.(right)
Courtroom drawing as we know it in the United States was born in response to the 1935 media circus over the kidnapping and killing of aviator Charles Lindbergh's infant son. After newsreel cameras, noisy shutters, tripods, and bright flashing lights overtook the court, the American Bar Association put forth a ban on cameras—leaving news outlets to seek alternate means of coverage.
"The media needs a visual," says Emmy-nominated courtroom artist Bill Robles, responsible for the aforementioned drawing of a pencil-wielding Manson plunging across court, which he made in 1970 during the first trial he ever covered. "When cameras are not allowed, you're the king."
However, in step with developing technologies and growing public interest in criminal trials, some U.S. courts relaxed their camera restrictions. The mid-1970s saw some states permitting cameras in limited use, and by the early '90s, even some federal courts experimented with bringing them back.
The turning point came with the so-called trial of the century: the O. J. Simpson murder case in 1994. Following the request for transparency by both the defense and prosecution, presiding judge Lance A. Ito boldly allowed a single television camera into his court.

Illustration of O. J. Simpson in his civil trial by Mona Shafer Edwards. (left)
Illustration of detective Tom Lang Testifying in the O. J. Simpson civil trial by Bill Robles. (right)
"Everybody thought that was the swan song," says Edwards, who worked the former football star's criminal murder case in rotation with a handful of other artists. "We all saw the writing on the wall; Judge Ito let cameras back in, and we all thought that was it."
But Ito's decision totally backfired. As Edwards recalls, witnesses underwent complete makeovers between the preliminary hearings and the actual trial, with housekeepers entering the courts "completely done up"; lawyers started positioning their lecterns for optimal camera angles. "It was a circus."
After that experience, judges were significantly weary of an O. J. redux. While cameras are always banned from federal courts, at this time they were allowed in the courtrooms of 47 states at the discretion of the judge—and judges weren't having it.
Read more about it on Artsy